ENTERPRISE
Modules for
Live Streaming
Broadcast live to your audience with Cinema8 and communicate with them in real time.
Why do you need
Live Streaming

module?

1

Today, it has become very popular to open live broadcasts for communication purposes or corporate trainings on social media and to communicate with the audience instantly

2

Cinema8 Live Streaming module prevents you from needing another platform to open a live broadcast

3

Allows you to easily open a live broadcast with its simple-to-use interface

 
Promote your products live
You can easily stream a product that you will promote with Cinema8 live broadcasts. Make launches and share this with your viewer quite simply.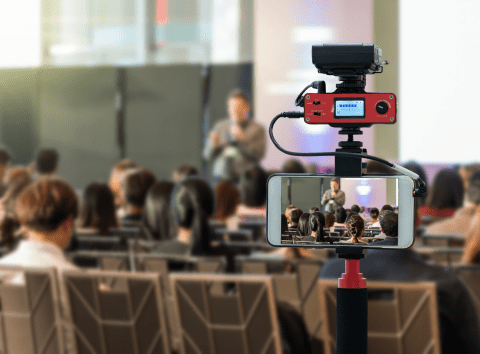 Share your post-broadcast recordings with Cinema8, which automatically records your live broadcast
Cinema8 Live Streaming module keeps a record of the live broadcasts you have made. It processes these live broadcast records to the system as a project. In short, you can easily access the live broadcasts you make after the broadcast ends. After completing your live broadcasts, you can come to the projects screen and add interaction tools to your live broadcast record, get the embed code, publish it on other sites, export SCORM and share it with the people you want in LMS.
Appeal to your tight followers with Cinema8 Live Streaming
Use the live broadcast module if you want to increase your participation by watching your audience, viewers or in-house employees watch content related to any subject. Because when your audience sees a live broadcast, they will know that it is unique content, and therefore participation will increase. Another way to increase the demand for your broadcasts or content is to offer your viewers some advantages such as discount coupons or different offers in live broadcasts. In this way, your followers, your audience or your employees will join your broadcasts in order to catch the advantages you provide in live broadcast and you will transfer your content to the audience.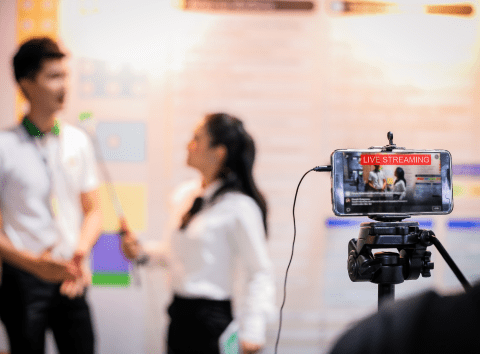 Create your secenario, open a live stream, save it and make it interactive
Cinema8 Live Streaming module records the live broadcasts you make and processes them into the system as a post-broadcast project. So, how can we use this feature in a practical way to create interactive tutorials or videos? Let's say you have completed the scenario of the video you want to shoot. Open a live broadcast and make your broadcast with Cinema8. Then, by creating an interactive project from Cinema8's live broadcast recordings, add questions, buttons, drawings, sounds and many more features to your video with drag and drop tools. Here is the interactive video you created in a practical way.
Instead of classroom trainings, you can handle your training needs with live broadcasts
With Cinema8 Live Streaming, it is very easy to broadcast your trainings live easily. Broadcast your education live with Cinema8 and share the broadcast link from your site, link or LMS. E-learning with Cinema8 is that practical.
LEARN MORE ABOUT CINEMA8 SOLUTIONS