The fact is undeniable that the competition among the industries is growing fiercely with an increasing number of days. A brand has to work even harder than before to be able to gain more benefit. However, most of the brands believe that providing a high-quality product or service is merely enough to make a good number of customers. It is obviously an essential factor to provide quality for the consumers but working on the marketing strategies is another vital factor that should not be ignored at any point.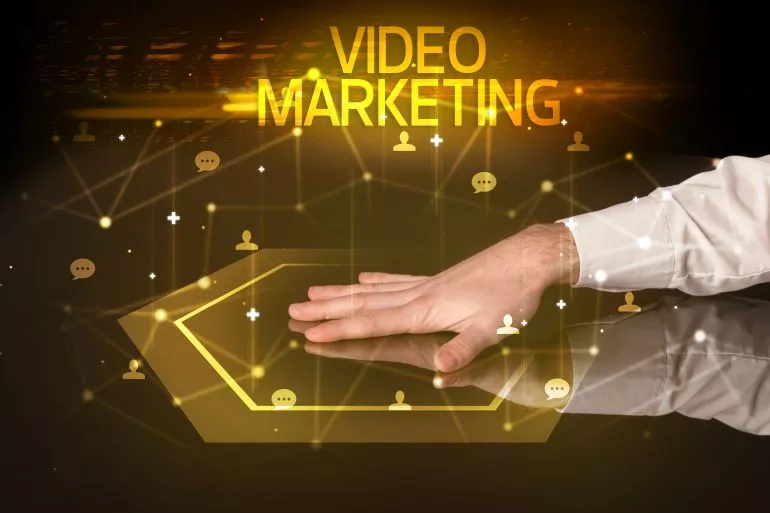 It is not too hard to observe that in today's time, video marketing is the most effective and vogue strategy that almost every other known and reputable brand is implementing. There are remarkable benefits of video marketing, and due to this reason, it has become one of the most significant parts of the business world and especially for the marketing sectors.
What Is Video Marketing?
It is not a very complicated thing to understand the definition of video marketing. In simple words, it is a strategy that incorporates videos to promote or market a brand, product or any service. A robust marketing campaign may include videos to bring in some interesting factor in order to gain customer's attention. It may also include the customer's testimonial from any of the live events, or other types of videos like explainer videos, corporate training videos, entertainment videos, and the list tends to go on.
How to Create Interesting Marketing Videos?
There are infinite benefits of utilising the videos in the marketing campaigns, but one of the biggest advantages is that this strategy helps a lot in boosting a brand's conversion rate. However, it is important that the videos must be captivating enough to grasp the audience attention within a glimpse.
In order to provide ultimate assistance, we have gathered and discussed some of the exceptional tips below for you to implement while creating the marketing videos.
1.    Focus on Telling a Story to the Audience
Rather than being clearly promotional, a viable video recounts to a story. It is imperative that the organisations should use the emotive intensity of video by engaging their client's needs and wants.
2.    Ensure the Introduction Stands Out
Similar to how we are probably not going to tap on an email in case we are not propelled by the title, a farfetched one-fifth of watchers click off a video usually within 10 seconds in the event that they are not intrigued by what they see. In light of this, the presentation of the video is indispensably significant and ought to be made inspiring, engaging and enlightening, to snare the watcher and motivate them to see the rest of the video.
3.    Be Creative and Create a Stimulating Title for the Video
By a similar token, your video's title ought to be animating and attention-grabbing so as to catch a watcher's eye. Besides, by utilising pertinent catchphrases in a title, the video is probably going to appear easily on the search engines when watchers look for the relevant topic.
4.    Focus More on the Mission and Less on the Product
Rather than being unmistakably centred around the item, you want to sell and every one of its advantages, channel the message of the video into the chief purpose of the product. Instead, you keep on bragging about how good a product is, make people see how it can be beneficial for them. Highlight the mission of the product for the audience.
5.    Try Not to Sound Boring to the Audience
It is well-understood that no one likes to spend their time watching a dull and boring video. It is given, on the off chance that you need your business' video marketing effort to be fruitful, make energising and motivating videos that can never be viewed as exhausting. 
6.    It Is Okay to Be a Little Bit Risqué!
While a lot of wicked content is probably not going to do the credibility of your business too many favours. However, the perfect amount can be useful for site hits, as long as they are not exaggerated.
7.    Make Sure the Video Is Mobile Friendly
With an ever-increasing number of individuals utilising smartphones to get on the web, it is essential that the corporate videos are mobile-friendly. Truth be told, as indicated by YouTube, mobile-friendly videos utilisation increments 100% consistently! Marketing videos along these lines should have the option to be downloaded and further be enjoyed on the devices.
8.    Keep SEO Under Consideration
It is known by almost everyone that Google cherishes video content and a compelling video marketing effort ought to have Search Engine Optimisation (SEO) at the top of the priority list. In order to guarantee greatest SEO esteem from your videos, go with the video with an elegantly composed depiction that is labelled with pertinent catchphrases to help support the video's SEO.
9.    Remember to Include Your URL for the Video
Showing your site address in a marketing video is a decent path for the brands to get exposure and create traffic to their site through a video.
10.    Focus on Educating Your Audience
It has been observed that one of the most remarkable approaches to execute powerful video marketing is to instruct and educate the respective watchers. Regularly videos that offer counsel, data, tips and other useful content can be more powerful than an exclusively limited time video.
11.    Make the Video More Impressive by Adding Music
Music is an incredible asset on video content, bringing out a horde of feelings. Try not to be reluctant to utilise music in your video that fits the state of mind, a mood of the message and produces a much more energising and emotive video.
12.    Prefer to Use Video Content Generated by Customers
Putting your clients behind the camera to discuss how they have utilised and profited by your item, can truly be an amazing method to draw in watchers and bid to imminent clients.
13.    Make Sure to Incorporate a Call to Action
Just like how all blog entries and content ought to have a source of inspiration toward the end, which welcomes the peruser to make a further move, for example, joining to a newsletter, or visiting a site, so too should a marketing video. Ask yourself, what do you need watchers to do when they have viewed the video and afterwards urge them to do as such without being unmistakably promotional.
14.    Consider Taking Viewers Behind the Scenes
Purchasers love to get up near a brand, and video marketing offers the ideal chance to take clients in the background and into your business' 'common environment.'
15.    Make Sure to Incorporate Tutorial Videos
Posting instructional exercises that are applicable to your niche is an extraordinary method to connect and also to engage with clients. Tutorials should not part with all your privileged industry insights. However, ought to be sufficient to allure the watcher with useful and helpful content, leaving them needing to find out additional.
16.    Keep the Length of the Video Adequately Short 
Online watchers usually do not have a lot of time to spare before they are off looking on another website and at another video. Right now, shorter marketing videos can tend to work superior to long ones.
17.    Make Sure to Utilise a Professional Voice 
Words verbally expressed with clearness and processualism will consistently come out preferable in a corporate video over an amateur speaker, whose absence of experience talking on the camera is self-evident. Considering this, it may be a smart thought to have a speaker that is experienced on talking before the camera in order to record the video, or even consider bringing in an expert.
18.    Utilise Micro-Video Apps
Alongside so much discussion of keeping videos short for the watcher, it is likewise evident shorter content is a superior arrangement for most social stages. Short and concise content triumphs over longer types of content, especially via web-based social media channels. Video advertisers ought to consider utilising smaller scale video applications, which abbreviate videos to under 10 seconds, so they are perfect of sharing on any social media platforms.
19.    Suggest Conversation Starters
Endeavour to make commitment and discussion with your video by asking watchers questions. Request that watchers leave answers to the inquiries in a comment section underneath the video.
20.    Try not to Be Preoccupied with Perfection
Videos for marketing intentions are not Hollywood films, and no one anticipates flawlessness. While you need the video to look proficient, do not turn out to be excessively fixated on flawlessness that on the 50th take you despite everything have not got in the right.
21.    Do Not Forget Production Quality
All things considered; it is significant a marketing video is created expertly. From the camera work to lighting, altered to voice-overs, it may be a smart thought to call upon the expert video creation agency to guarantee the video is delivered in high calibre.
22.    Utilise Videos to Assist You Create Your Own Effective Video Marketing Strategy
Head to any impression of YouTube to perceive how brands are as of now constructing videos that have figured out how to become a web sensation. Highlighting any viral video on YouTube will give you a few pointers on how probably the greatest and notable brands are delivering a video intended to circulate around the web.
23.    Do Not Forget to Create Hype Around the Launch of the Video
Rather than simply feeling free to dispatch your video, manufacture publicity around the video by advancing its dispatch date on your site, blog and online social media podiums.
24.    Add Some Decent Humour to Your Videos
Not every corporate video should lack a humour part. Despite what might be expected, some humour can function admirably in producing more enthusiasm for your video. There are some decent humour videos of the brands that turned out to be a great success. So, adding a little amount of humour can actually work out really great for your organisation.
25.    Insert a Video in Landing Pages
Contemplate where you are going to put your marketing video. Insights show that inserting videos in points of arrival can raise change rates by as much as 80%. Lets have a  look a good marketing video example of an interactive video with Cinema8 .
To Wrap It Up
If you want to gain ultimate benefits for your brand, then it is essential that you implement the video marketing strategies in your marketing strategies. Also, do not forget to follow the tips mentioned above so that success will be guaranteed.
You can create your interesting and creative marketing videos with Cinema8 interactive video platform, write to us.