Tofaş's learning & development team redefines what's possible with an interactive video platform
Tofaş is one of the foremost automotive companies in Turkey. Founded in 1968, Tofaş, Turkey's passenger car and light commercial vehicle is the only automotive company that produces both. Koç Holding and Fiat Chrysler Automobiles (FCA) are equal shareholders in Tofaş's capital.
Tofaş Academy's goal is to provide Tofaş and its value chain with the most appropriate learning experience to enable them to do better today and prepare for the future. In this regard, we met with Tofaş for the purpose of providing video content management system that allows them to build, manage and deliver all video content structure according to their needs and goals.
+3,036,035
Total Watch Time (Minute)
TIDEO: Tofaş's Corporate Video Training Portal
Tofaş has created a video portal where its employees can access visual and interactive video content for both technical and personal development. They named this portal created with Cinema8's Tube module as Tideo. Tofaş has launched the "Tideo" project that includes interactive video platform, enterprise tube, video streaming and storage and analytics modules of Cinema8 in 2017.
There are more than 10,000 videos in Tideo which includes different topics in more than 30 different channels. With the playlist structure, employees are also offered the opportunity to watch a series of short videos.
The most shining feature that distinguishes Tideo from other examples is "Interactive Video Technology". In this regard, more effective and engaging learning experience is delivered by adding many interaction elements such as questions, buttons, directing to different videos, feedback, evaluation tests, pdf, ppt, url, or html content into linear videos. They have been still delivering effective trainings producing Cinema8 interactive videos.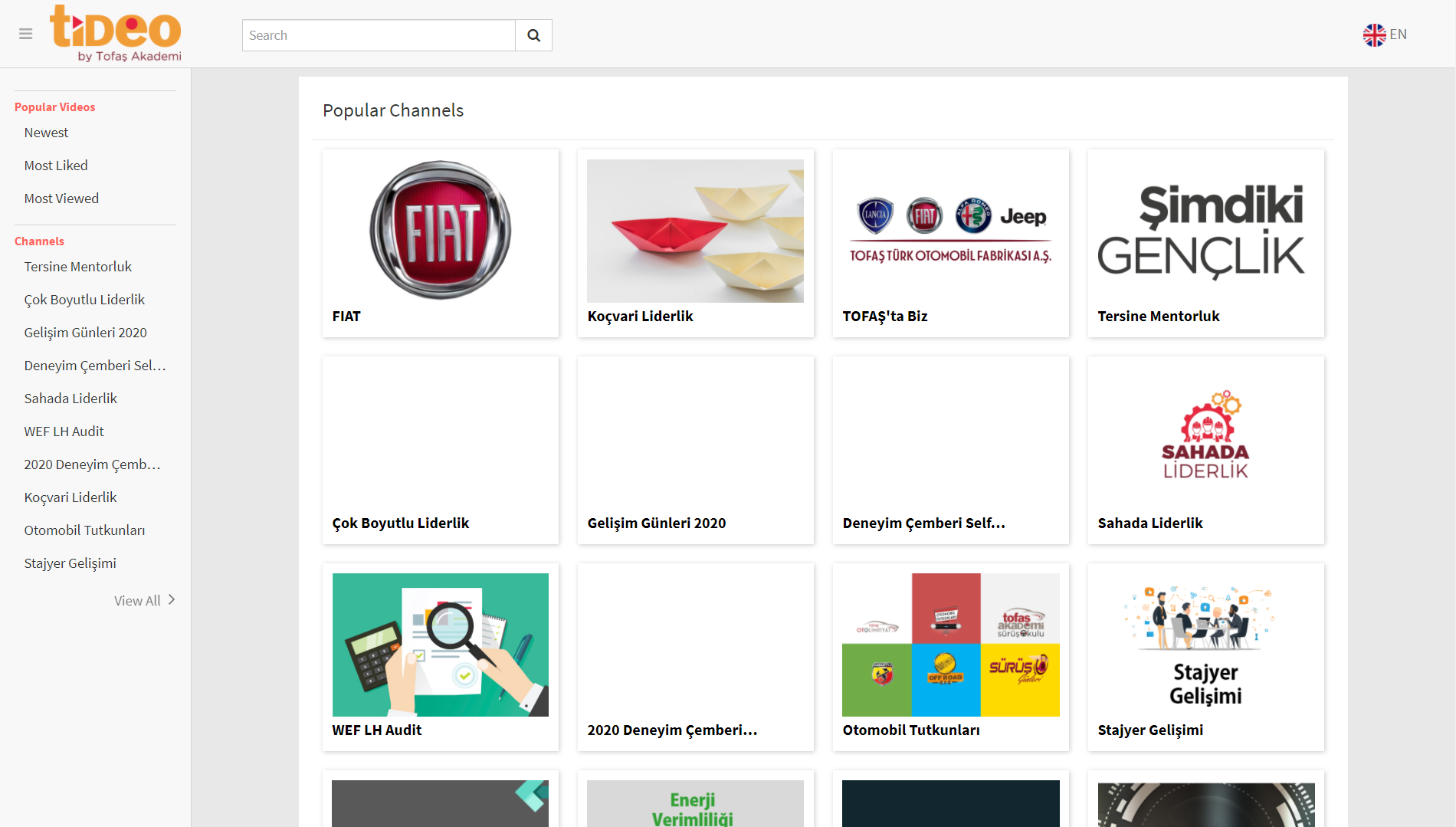 Single Sign-on
It was very important for its employees to access all training environments through a single system in terms of security and comfortable accessibility. They have integrated this video portal into the Akademi.net learning management system that they use. Employees can access everything, including Tideo, with a single session on the system. With Cinema8's integration structure, it provides ease of use everywhere.
Effective User Management
Not all video content appeals to everyone. For this reason, being able to manage user permissions is one of the most important features that a video cms should has. Tofaş defined all its users to the system and created organizations from different departments. They determined the user permissions of each according to the needs. Then, they assigned employees working in the relevant departments to the target channels and playlists. Some channels and lists were left open to common use.
Eye-Catching Awards
Among the many awards they were granted as Tofaş Academy, there are also projects that we get involved with Cinema8 infrastructure. One of the awards that are proof of their success is the "FCA Best Practice" Award of 2017 by Fiat Chrysler Automobiles auditors.
In 2019, Tofaş is the gold winner of Brandon Hall Group- Excellence Technology Awards category with the "TIDEO: Interactive Video Content Platform" project. In this context, we congratulate Tofaş Academy once again and share our happiness.
 
İyiye İşaret: A Social Responsibility Project from Tofaş
İyiye İşaret Platform is a social responsibility project developed by Tofaş. Its aim is to support deaf and hearing-impaired people to express themselves in a better Turkish. Based on the most common mistakes made in the Turkish language education process of the hearing impaired and deaf, the most important words were determined and how these words were used in Turkish Grammar were presented to the public with interactive videos on the website https://engelsizhareket.fiat.com.tr/iyiye-isaret.
All interactive videos in this project were produced in Cinema8. Each word's video consists of 4 parts: Show, Speak, Sign and Lecture. Word maps were created by associating each word with a word that will come after it. In this way, people who follow the words in a related way can improve their Turkish language knowledge.
We are happy to be the technology provider in this project with high social benefits.