Hadi first appeared by organizing video contests via live broadcasts on mobile phones. Thousands of people participated in these competitions and thousands of money were distributed to these participants. 
One of the most important indicators of this is that when entering the year 2019, the participation in the special program of Christmas is over 1 million, breaking a record and the total reward is 200 thousand Turkish liras.
Conversion from Hadi to "Hadi Interactive Video Games" with Cinema8
Combining many special events from the beginning to the present with knowledge competitions, Hadi has a story in its category. Hadi's knowledge contests that appeal to a wide audience continue today.
Since March 2020, Hadi wants to expand its target audience and launched its new video content platform.
+1,057,345,924
Total Watch Time (Minute)
So why did Hadi, a successful competition platform, decide to develop its application and become a broad video content platform as well as information competitions?
Towards a Wider Target Audience
Hadi, appeals to those who love to compete and compete in its original form, while it appeals to a much wider audience with its new form. With Cinema8 interactive videos, users can learn other people's ideas in a complicated discussion video thanks to interactions, or practice with interactive videos to improve their English. It also has a variety of videos, such as videos that you can bring your horoscope comments according to your choices. HadiTV, which contains many different interactive videos such as this, now appeals to a much wider audience.
Enabling Users to Spend More Time in Application
Coming to give a different perspective to their application, Hadi wanted to reach a wider target audience by providing its users with entertainment content that can be watched quickly at any time of the day. Because nowadays, long videos are not watched as carefully as before and viewers can easily be distracted. To prevent this, Hadi not only targeted short-term entertainment videos but also wanted to keep users in the video longer by including Cinema8's powerful interaction tools in the videos.
Increasing the Frequency of Visits to the Application
The hours of the competitions to be held in the previous version of Hadi were predetermined. Users logging in at certain times did not have much reason to go to the app for the rest of the day. On this new platform with Cinema8, users can go to the app during the day and have fun with Cinema8 interactive videos.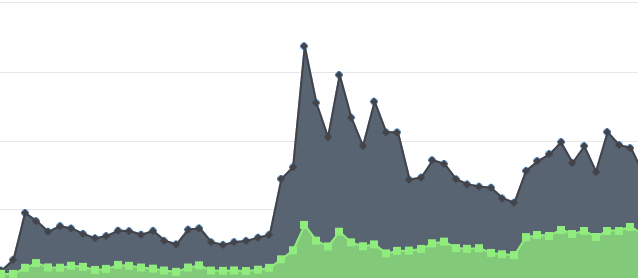 * Video watch graphic during the day

Increasing Revenue with In-Video Ads
Hadi has earned a large portion of his income through sponsorships before. Thanks to Cinema8's advertising tools, revenue can be obtained with ads placed on videos on the new platform HadiTV.
More Accurate Progress Map with More Data
Cinema8 provides you with a detailed video report. In this way, you can easily access many data such as who answered the questions in your videos, which button was clicked more. HadiTV also uses this analytics data on its new platform and decides the content to be added in the future.
Easy Platform Usage and Mobile Compatibility
One of the reasons that Hadi, who wants to develop his platform, is partnering with Cinema8 is ease of use. Hadi employees, who received Cinema8 training within the company, were able to produce their own interactive content without support after about a month.
In addition, the most important point when creating the HadiTV platform was that all interactive videos should run smoothly on mobile devices. Since this is a mobile app, the interaction tools or ads in the video had to work stably. The platform, which is fully compatible with the collaboration of Cinema8 - HadiTV, started its activities by offering smooth use to its users.