The news has gone viral that interactive video content has surpassed all the boundaries and is already taking over. The rumour has it that it might be going to be the next most imperative tool in the marketer's backpack to utilise to bring their product or service at the top of the list.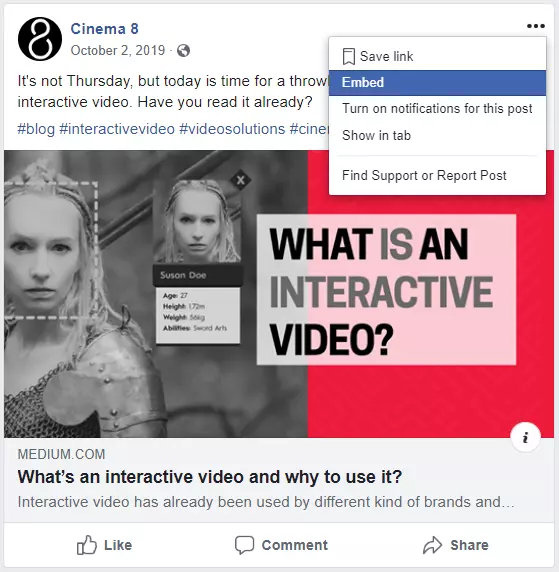 It has already been reported by some intellects that marketers from renowned industries have already accepted the video to become one of the most influential tools for the market sectors. It has remarkably increased the investment in both the computerised and digital and as well as mobile advertising sectors. To put it into simple words, interactive video has shown some incredible results in the recent present, and it is expected to achieve more for the marketing campaigns.
How Are Brands Benefitting from Interactive Videos?
Videos are indeed no longer a one-way communication. With the help of the interactive videos, the companies can easily get connected with the customer. It has helped the organisations in acquiring personal information about the clients in the easiest way possible.
Businesses have utilised various methods in order to engage their audience even further on many different platforms. It would be a wonder to see how intellectually organisations are bringing interactive videos into their use. Some of the astonishing ways are also discussed below.
1.    Utilising Shoppable Videos
A shoppable video is likewise alluded to as a 'touchable video' or an 'interactive clickable video'. With a shoppable video, you can transform your video into a business motor and offer individuals to find out about your product or service before purchasing it. You connect with your customer in an entirely different manner.
You can transform practically any video into an interactive encounter utilising the alleged 'activity focuses' or 'hotspots' to feature your product or service and significant data, for example, value, size or category. In a shoppable video, you utilise the trigger focuses on adding a connect to your webshop where your customer can purchase the product or avail the service displayed in the video. You can grandstand the same number of items as you like in one video and include the same number of triggers as you like. All you need is a YouTube or Vimeo connection to your video, and you can begin. 
2.    Implementing Video Branching
Interactive narrating or you can say storytelling is the primary goal inside video spreading. Here, the hotspots are utilised to ask the watcher inquiries and dependent on the answer; the watcher is sent to another video. Video stretching joins diverse video cuts together to make an interactive story for the watcher.
Some brands have the right eye to pick the perfect way to deal with this type of interactive video so impeccably in their videos. They recorded various situations and solicited the watcher what they are looking for. The watcher has the decision to further view the video, making the decision on what they want to know. In the wake of replying, the watcher was guided with all the significant information they wanted depending on their choice. 
3.    Conducting Interactive Video Quiz Contest
A Video Quiz Contest can get more individuals to watch your video and give nearer consideration to the message conveyed. Individuals will, in general, remain centred whenever there is an opportunity to win a prize. In a video test or quiz challenge, you can offer a prize toward the end, and keeping in mind that your customers watch, questions will have all the earmarks of being replied.
In order to create a quiz, you can utilise various stages where you reuse old videos. You should simply put a connect to it from Vimeo or YouTube and begin making questions.
It is easy to say that with this method, you will gain individuals' consideration with no much trouble. Moreover, you will get a chance to advise your customers about the advantages of your product or service. Your product or service likewise turns out to be progressively important along these lines since individuals draw in with it as opposed to being detached watchers. At long last, you get more contact prompts developing your email marketing list. 
4.    Taking Help from Video Gamification
One of the perfect things about interactive videos are that you can repurpose your present content and change it into appealing interactive content. It is shockingly simple to make a video into a game to draw in with your crowd. Since it is human nature to be a little competitive, adding the interactive gamification part to your marketing strategies is the best way to engage your audience and grab their attention towards your product or service.
5.    Utilising Interactive Navigation in the Form of Video
For longer or increasingly confused videos, you have the alternative to add a menu bar to make it simpler to explore through. It is a choice regularly utilised for instructional exercises, like tutorials, to part the video into sections. It improves the crowd's video experience and empowers individuals to watch at their own speed.
Why Are Interactive Videos Important?
Interactive videos are expected to transform the landscape of the entire video marketing sector. Or, at least that is what it feels like. As the technology is catching up day by day, so does the marketers. Brands are utilising interactive videos merely to get under the skin of their target audience, and why they shouldn't when these videos are bringing a handful of benefits for them.
Communicated below are the most highlighted significance that interactive videos can bring to a business.
1.    High Engagement
It has been deeply observed these days that purchaser capacities to focus are shorter than they have ever been previously. Catching your crowd's consideration sufficiently long to see a transformation can be probably the hardest fight for a content advertiser today.
Fortunately, interactive video is here to make all the difference for a very obvious reason. An expert has just revealed the fact that interactive video offers levels of high commitment contrasted with conventional video groups where the client can be handily diverted. At the point when a watcher is associating with a video, their consideration remains in the content, bringing about a great amount of lift in client action.
2.    Make Viewers Your Priority
One of the primary targets for cooperating with a video is guaranteeing the watcher is in charge. Control makes pertinence for the watcher, driving them to take explicit activities inside their excursion, which brings about the video's content being progressively effective.
Computerised or digital brands have perceived that video purchasers need to have the option to hop to various pieces of a video and view content that suits their pertinence, slicing through the clamour. Considerably more in this way, advertisers comprehend that buyers presently request more personalisation as a major aspect of their purchasing experience.
3.    Gives a Touch of A Popular Choice
Through valuable research, it has come forth that 78% of online clients watch videos once or twice a week and an amazing 55% watch them consistently, like at least one video on a daily basis. To put it plainly, the video has become a well-known instrument of decision for advanced brands to use in their content showcasing procedures.
Presently furnished with the absolute most inventive interactive videos, brands are making progressively incredible approaches to convey their story, clarify organisation esteem, instruct their watchers and manufacture client connections that last now and later on.
Further solidifying its expansion in ubiquity, video content is the thing that your clients need to see. Normal Places found that 54% of buyers need to see videos from brands over other content sorts, such as email, social pictures and blog articles.
4.    Provides a Delightful Experience for Users
Straight up, interactive video is more agreeable than conventional video structures. A customer will have some good times encountering a brand through an interactive video rather than some other type of media.
An interactive video can enchant the watcher in various manners by keeping them engaged with invigorating, interactive content, offering important data to advance brand mindfulness through interactive 'hotspots' or basically instructing the watcher about a brand's product or service.
5.    It Converts More
Another worthy research by an expert represents the fact that utilising a video on the landing page of the website can expand transformation by up to 80%. There is no denying that video transforms content into astonishing conversions.
It is imperative for you to know that interactive video changes over essentially higher rates than numerous different sorts of computerised digital video advertisements. Research from Mobile marketer shows that interactive video promotions help to enhance viewing time by 47%.
It is further recognised by the very experts that in excess of 33% of online watchers trust video advertisements. Notwithstanding, some other experts indicated that interactive video changed at a pace of over 11%, contrasted with Google advertisements and YouTube explanations changing over at paces of under 1%.
6.    Helps to Grab Valuable Data
Interactive video is an inconceivably different medium, making it ideal for any business to catch significant information that guides their advertising campaigns.
Including intelligence at focus during the video can drive wanted practices, pose inquiries and increase important shopper experiences that permit brands to become familiar with the watcher. It is indeed the ideal-promoting tool to help you to comprehend your crowd in a much better way.
For instance, a researcher found that individuals remain on a site for as much as two minutes longer and are 64% bound to buy being indicated a product video. Brands can utilise the data accumulated from a watcher's associations on a video to give their crowd the correct product videos on their site.
7.    Interactive Video Content is Comparatively More Memorable
Shoppers love to interact and offer their input. At the point when they are ready to interrelate with a video, this makes the watcher bound to recall your brand. As brands go after consideration in a packed computerised or digital commercial centre, the interactive video offers mark a serious edge to win watchers consideration.
An interactive video is actually what is expected to take an advertising campaign up a score. Making high definition and vital interactive videos bring about improved lead capability and a speedier deals cycle. Not to mention, better ROI as well.
8.    Better Return on Investment
On the off chance that you feel the need to improve your ROI, interactive video is the ideal advertising tool to build your numbers and get an edge over your rivals. As of late, brands have enormously gone to interactive video to meet their promoting objectives. 90% of advertisers as of now use video in their correspondence, deals and promoting.
If you want to learn more about Cinema8 interactive video platform write to us.