Yet again; Cinema8 once again returns back with an award, three applied this year, and three won. We are humbled and proud to be listed among the Top 10 Cool New Learning System by Talented Learning.
John Leh, the Co-Founder of Talented Learning, a trusted learning tech industry veteran with over 25 years of experience in learning solutions, has already overviewed around 400 solutions and we agree with his way of thinking:  ''It's not just about learning management systems(LMS). It also includes learning experience platforms (LXP), learning record stores (LRS), talent management, performance management, training management, video learning, mobile apps, micro-learning, event management, learning analytics, and authoring solutions – all of which have overlapping capabilities.'' This is also the reason we wanted to apply for the Talented Learning Awards.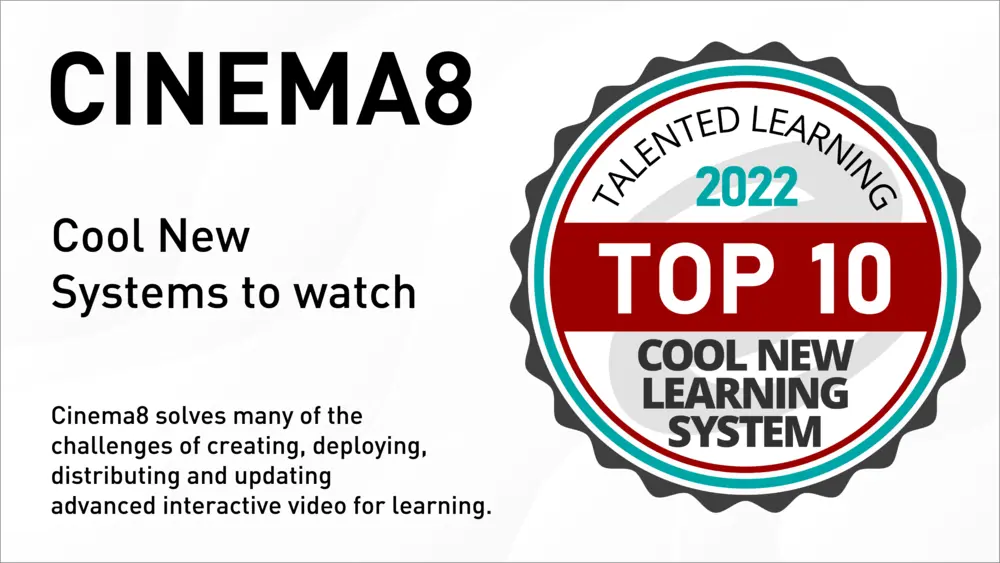 Applying to Talented Learning Awards is a rigorous process, its not one of those ''fill out a form and send'' submits, first, you need to answer roughly 100 questions and then you go on a live demo to introduce your platform – it is a thorough evaluation of the platform indeed. Having said that, this was what we wanted in the first place before applying; not being evaluated on a certain project or a specific function but rather the whole platform itself in regards to the criteria mentioned in the quotation above.
Having made the list has triggered our determination even further. We will continue to implement the latest technology, we will prioritize innovation, and we will put the best effort to be one step ahead – hence we will always remain relevant and NEW. We will offer tremendous functions, dynamics, and user experience, we will continue developing creativity and we'll still keep it fun – hence we intend to stay COOL.
John has quoted us as
Cinema8 solves many of the challenges of creating, deploying, distributing and updating advanced interactive video for learning.
and we thank him for that. He can be assured that we will be back next year as well.