After having won the NYX awards this year, we have decided to focus on getting some new awards under our belt but perhaps a few words on why we wanted to apply for the NYX awards can clarify where Cinema8's mission is and where it places (and is) itself in the industry.
NYX awards ''recognize the projects, talents, and works of professionals at the forefront of the industry, who integrate the future of video technology within their creations, culminating new facets of digital videos, and beyond.'' This phrase alone was more than motivation for us to apply as we completely saw ourselves in the description.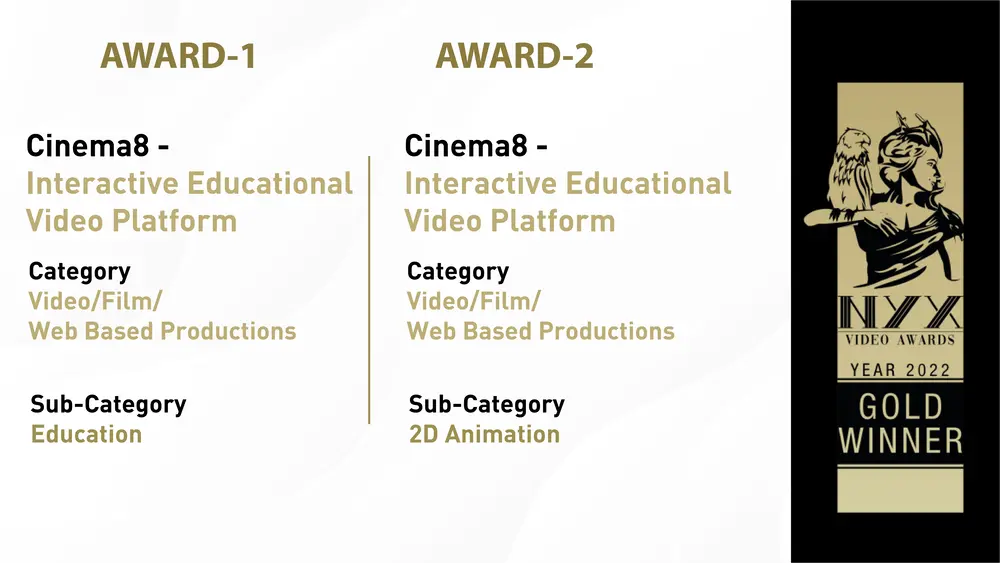 Cinema8 gets satisfaction with not only being considered in the same cluster, but even more, being judged and competing with well-known brands, experts, and pioneers. Guinness World Records SVP for Global Brand Strategy on the judging team, the likes of UEFA, Warner Media participating, and content for Nike, Toyota, and Coca-Cola on the submission list; we were surely up for the challenge and came back with awards with not one but two categories: Animation & Education.
Such achievements only trigger our determination as we continue to bring the best of video technologies in order for you to bring life to your content.