F connector is a type of coaxial RF connector. It is mostly used in the transmission of television signals. It is one of the basic elements used especially in cable TV, cable modem and satellite systems. F connectors are used with RG-6/U cables.
F connectors have been produced for the first time since the 1950s. The first connectors had plastic outer covers and were often used with RG-59/U cables. The metallic F connectors produced today provide less data loss than the old ones.
The F connector is an inexpensive threaded compression connector for radio frequency signals. It has a good 75 Ω impedance match for frequencies above 1 GHz and has a usable bandwidth of up to several GHz.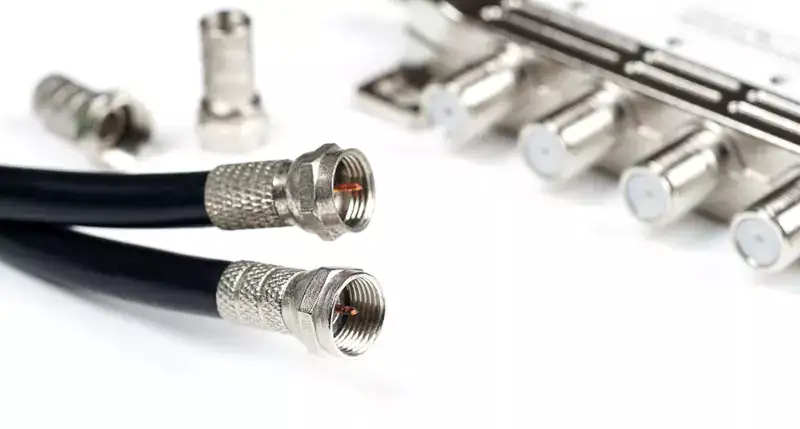 The design allows for low cost construction where cables are terminated almost exclusively with male connectors.
The coaxial cable forms the center conductor pin and the cable dielectric extends to the mating face of the connector. Therefore, the male connector consists of only one stem, which usually must be screwed onto or onto a crimped cable shielding braid and a fastening nut, none of which require tight tolerances. Push-on versions are also available.
Female connectors are typically used in bulkheads or as couplers and are usually secured with the same threads as the connectors. Thus, it can be manufactured as a single piece with central socket and dielectric in the factory where tolerances can be easily controlled.
This design is subject to the surface properties of the inner conductor (must be solid wire, not twisted) and is not corrosion resistant. Therefore, waterproof versions or enclosures are required for outdoor use (eg antennas). Corrosion resistance, reliability of connector electrical conduction, and water resistance can be improved by covering all bare copper wires and connectors themselves.
The F connector is not weatherproof.